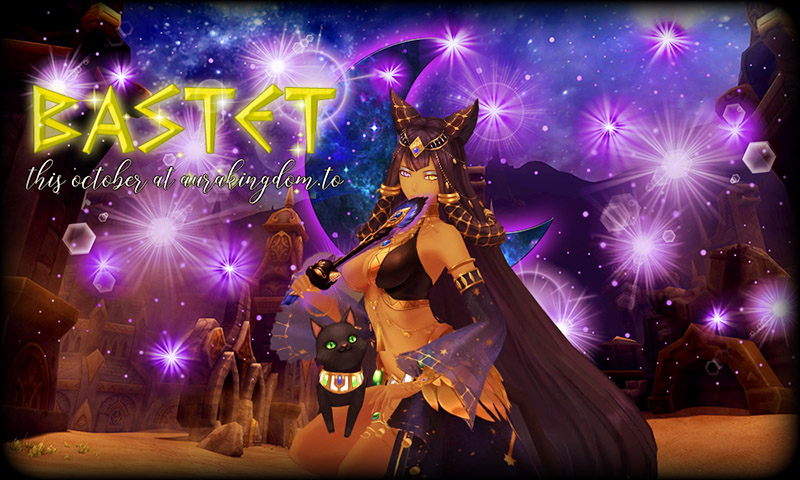 Bonus Mall Promotions: Bastet's Release


October can be considered as a noctural month. Not only the daylight starts to shortened, it is also traditionally the month of spirits and the time of the year when the mortal and spiritual world converges into one. Azuria is also sensible to those energies; and this time and ancient Goddess will be come to visit from very faw away. She will use her powerful influence to help us fight against evil, and also, to fall in love a little too.

Coming all the way from the Nile, Bastet is the daughter of Ra and Isis, the true rulers of the Sky. Bastet has been known as the "Eye of the Moon" not only because of her nocturnal influence, but also because of her strong intuition and maternal instinct. She is the deity of fertility and childbirth, and she is also known as the "Protector of Houses and Temples", bringing happyness, love and harmony to someone's household. Praying to Bastet will be quite effectively to bring joy into your life, but of course, it won't have the same effect for her enemies.

Related to the figure of the Black Cat, Bastet is often represented as a cat-headed woman. Regardless, we will get to see her in her most majestic and pure form. As gorgeous as she is, she is also very powerful. She will stun her targets, diminish their defense and steal their life. In the company of Medjed and Byakko, she will grant extra lightning skill damage to her Master.

You will find Bastet's key of gaia and key fragments through all October in our Bonus Mall, but we will have an early start: she will be added this

September 27th

to the store. You will also find her special promotional bags, Medjed's Key of Gaia and Fragments, and a special and very exotic collection of items.