​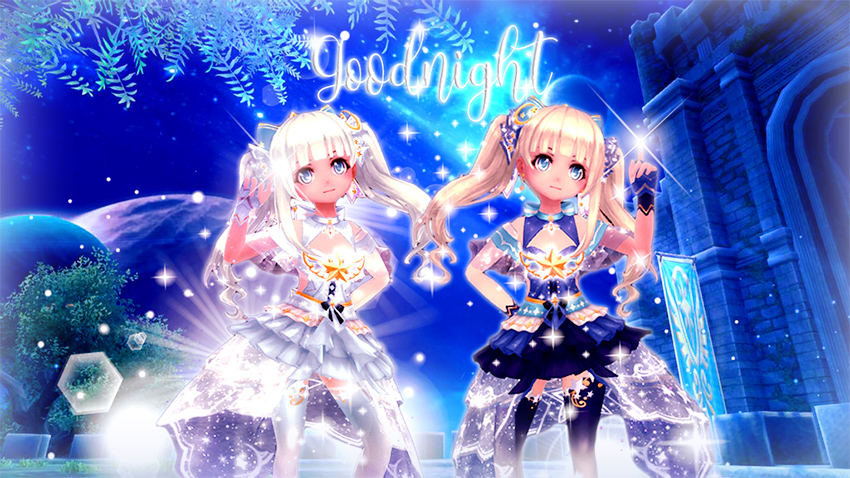 Server Maintenance on November 12th.
Patch Notes
New Paragon Table [Accessory Frenzy Edition]
Special week for Eidolons Fans. On this week's paragon, we will have all tiers filled with different eidolons unique accessories. If you were waiting for an opportunity to catch up, here it is. And if you want to test luck for better stats, here it is too!
- Abe no Seimei's accessory.
- New Year Succubus accessory.
- Genbu's accessory.
- Orochi's accessory.
- Halloween Medjed and Zashi's accesories.
- Bastet's and Salome's Accesories.
- Otohime, Sakuya-hime, Kingyo-hime, Iwanaga-hime accessories.
- Summer Persephone, Summer Michael accessories.
And more!
New AP Edition: Good Night Edition.
We have a new and adorable loli costume waiting for us, inspired by the moon and stars. To celebrate the release, we'll have a special week inspired by a good night sleep!
- New Loli Costume Set: Explorer of the Stars.
- Morrigan for sweet night dreams and soft pillows.
- Urd, Skuld, and Verdandi for fate and guidance

- Chronos to check on time
-Raziel, Michael and Raphael to guard you.
New LP Edition: Anime Edition.
Players has been asking to catch up in some of their all-time favorite costumes. You'll have the chance this week!
Re-Zero Costume Sets.
Hyperdimension Neptunia Costume Sets.
Date A Live Costume Sets.
Disgaea Costume Sets.
And more...
Asian inspired eidolons.
Promotion will also include related furnitures!
Promotions will change this Friday, November 13th and last for one week.

- Halloween Event Ended:
Lights on for Navea after today's maintenance. The drop of Halloween Candy Coupons is also interrupted from dungeons. The Halloween Paragon will remain available until next week so you can still use your pending rolls, same for the Adventurer Encyclopedia Exchanger.



- Upcoming Content!

The waiting seemed endless but we're finally in a place to announce the imminent arrival of Frozen Ruins of Zahr-Kazaal -Nightmare Edition.
The new nightmare challenge will be a SLV15 daily dungeon available for parties.
It will introduce to the game a whole new set of items: Oathbound releases such as Ruth, Awaydas and Gainey.
New Firestorm and Icy Thunder Zone combined auras.
Rerolls for orange eidolon accessories and crystal gears.

The new dungeon will also bring to the game our first timed-challenge: Players rewards will depend on their finishing time. Best timed parties will be ranked in a special daily leaderboard. Players will have an hour top to complete the dungeon, otherwise they will be kicked out. The dungeon will also include timed-penalties, the longest you stay in, the more certain stats and your movement speed will decrease.

The dungeon will also introduce a new custom system of buffs. Players will receive special bonuses inside the dungeon that will depend on the build of your party.