​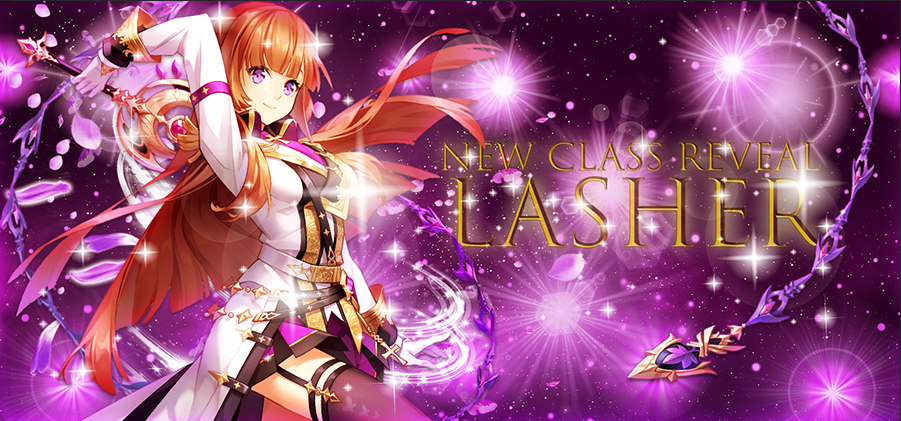 Server Maintenance on 27/08/2020
Aprox Time Duration:

No Eta.
Patch Notes:
- New Class Reveal!
Time to dominate the game! The Lasher is getting revealed on this week's maintenance. The chainwhip master is a dangerous DPS and you'll certainly enjoy playing it. The class can be unlocked as your first character since there's no restriction for its creation and it starts at level 1. So let's wait no longer and get started on the arts of the whip.
- Class Changes Includes:
Awaited official changes to Shinobi Class and Guardian are finally added to the game. The most significant changes involves these two classes, but changes to Crusader and Bard are also included on today's maintenance. All changes has been added to the game translations, but you can check the details in our akto discord.
- Character MAX Creation Limit has been increased: Players can now create a total of 25 characters in each account. One of the extra slots will be automatically unlocked as soon maintenance is over. For the other four slots, you will have to use a character slot expansion.
- LV85 Boost Creation Limit increased: Players can now have a max of 6 characters created using level 85 Boost Cards. (Remember, you can actually create as many as you would like, but the max slots for boost creation only gets cleared when you delete a boosted character).



New Paragon Table: [Ramen Edition]


It's time for everyone's favorite food. On this week's paragon table, we will go quite asian, as we usually do. The tiers will be filled with mounts, costumes, and buff items that will make you feel like in a festival. Some of the items for today's paragon table includes:
- Japanese-Wagashi Car.
- Midsummer Blossom Lantern Shrine.
- Cute and Otherwordly Lantern Shrines.
- Dazzling Mount Reshuffle Stones.
- Miko Traditional Costume Set.
- Japanese Flower Girl Costume Set.
- Sakura no Ryu Costume Set.
- Bro Ramsay's Dishes.
- Festive Noodles and Grilled Octopus.
- Happy Cookies.
- Dumplings.
And more!
Character Creation Special Promotion
During the lasher week of release, we have prepared a special promotion for all of our players. It will begin after today's maintenance and last until maitenance next week. The promotion includes:
- In LP Store Account Limit category, players will be able to buy 1 LV85 Boost Card, 1 Name Change Scroll and 1 Character Slot Expansion.
- In the AP Store, you will find these items in the Featured Category, with no buying restrictions. There will also be a special promotion for Character Slot Expansions. But you will only be able to buy them there during this week.



New AP and LP Promotions: Leveling Edition


With a new class there's also an opportunity to start leveling from the start. So if you are making your lasher from level 1 -or any other class- on this week's promotion you will find everything you need to get you started. Different variety of EXP boosts and treasure charms will be added in bundles with discounted prices. There will also be inventory bag slots with a special price! And buffs to get you buffed.



New AP and LP Promotion: Summer Edition


Summer is close to its end, and to celebrate it we will have a very special summer inspired promotion. Summer Persephone will make her AP debut during this week, including her gear, pet and bags. Summer Michael, Nidhogg and Alucard will be in LP Store, so if you are missing those eidolons we won't leave you hanging. Plus, Summer Costumes, mounts, and accessories in both stores!



August's Bonus Mall: Abe no Seimei Release


A new male eidolon arrives for your collection! The magical yokai is ready to advise you with his wisdom and he will be in the company of other deadly ghosts. Aoandon, Zashi and Shirayuki will join ranks. You will be able to get your Abe no Seimei Key of Gaia, Fragments and Bags in our Bonus Mall through all September.



We will start working on Promotions as soon Maintenance ends, but we will ask your patience as always since it take some hours to update them. They will be available until next Friday like usual; the Bonus Mall featured promotions will remain the same through all September.





New Adventurer Encyclopedia Rewards


Fans of Gaia Chronicles will really get a kick of this month's Adventurer Encyclopedia Rewards. There will be a total of 10 replenish potions for you to grab!



New Daily Login Rewards: Eidolons Edition


On this month's Daily Login Rewards we have focused on your Eidolons List: With special Voucher to exchange for certain keys of gaia in the Adventurer Encyclopedia, it will really help you improve. Plus! Eidolon Intimacy Items, Star Rerolls, Nightmare Experience Crystals, and of course Mana Stones!
New Monster Hunt: September's List
That shield on the Nightmare Time Library Chests won't stop you. Check all the boxes you have to defeat
on this thread.