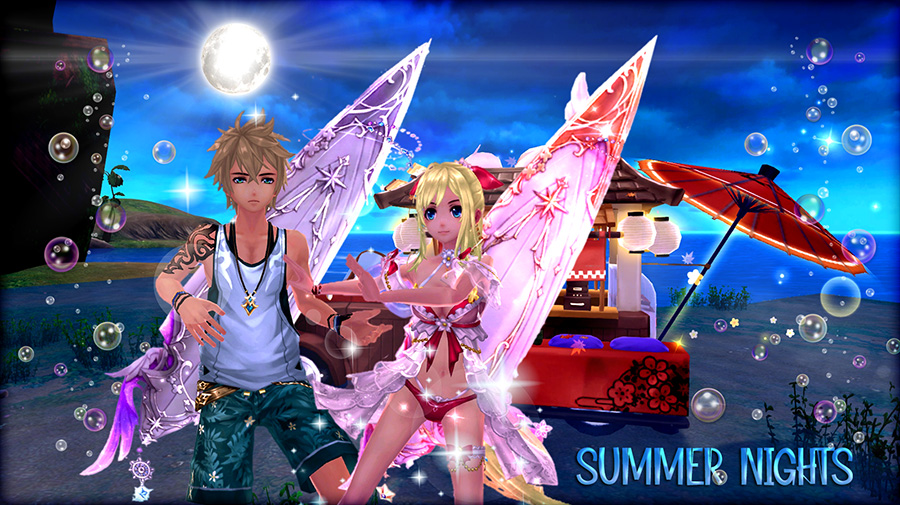 Server Maintenance on July 9th.
Aprox Time Duration:
Between 2 and 3 hours.
Patch Notes
-
New Nodes Addition:
"Hades's Rumor" and "Undine's Rumor"
You will be able to proceed to the new rumor challenges in Navea (X:405; Y:510) with <Church Investigator> Ise, at certain days of the week. Transform yourself into Undine or Hades, and complete their missions for a chance to win their unique pets, and more!
"Frozen Zhar-Kazaal" and "Reinhardt's Horse" Demon King Fantasies.
Enter the new challenges at Ventos Prairie (X:375; Y:809) with <Bounty Hunter> Aner at certain days of the week. You'll be able to challenge monsters as the epic dragon or as Reinhardt's faithful companion.
New Paragon Table [Fox Edition]
This week's Paragon Table theme involves some of the most soft and adorable creatures of Azuria. With different versions of different foxes, it is an opportunity to collect them all1
- Kitsune Cushion Mounts: Including the exclusive golden version.
- Japanese Flower Girl Costume Set.
- New Year Succubus's Key Fragments and Accessory.
- New Year Murasame's Key Fragments and Accessory.
- Ancient Swordwoman Costume Set.
- - Blessing, Blossom and Ceremonial Sacred Fox Mounts.
- Forever Wife and Hollow Kitsune Costume Set.
- Nine Tails Ornaments.
And more!
New AP Promotions: Summer Nights
The AP Store will get really warmth during this week's special Hot Items. Let's celebrate the most fun of the seasons with a very hot promo. Including the release of two new costume sets: Hawaiian Swimming Set for Males and Romantic Sea Waves Bikini Set for females. New Costume Weapons: Water Guns and Ocean Lances. New Ornaments: Cesela and Serena's Surferboards. Lady of the Sea Costume Set. Speedos and Micro Bikinis. Swimming Goggles, Scuba Masks, Sun Glasses and more accessories. Summer Eidolons, including Summer Michael, Summer Nidhogg, Summer Alucard, Undine, Otohime and Kingyo-hime. Summer Eidolon Bags at very special prices. And more!
New LP Promotions: Winter Nights
It couldn't be any other way. If things are getting very hot in the AP Store, their opposite store will get very cold, so everyone suffering from winter right now can also feel represented. If you have been waiting for Winter related eidolons, this will be your opportunity to catch up. Don't let them slip away, since it might be some time until you see them again! This week's promotion will include fluffy mounts with a lot of fur: Travelling Mouses, Ski Penguins, Polar Bears. Warmth clothing: Winter Furry Kimono, Sakura Winter, Luxury Winter Kimono. Andrea's Costume Set, Christmas Party, Winter Captain. Christmas eidolons: Muse, Amaterasu, Alice, Snow White, Fenrir and Tyr. Winter-eidolons: Shirayuki, Andrea, Ullr, Eirene.
Promotions will change this Friday, on July 10th, and last for one week.