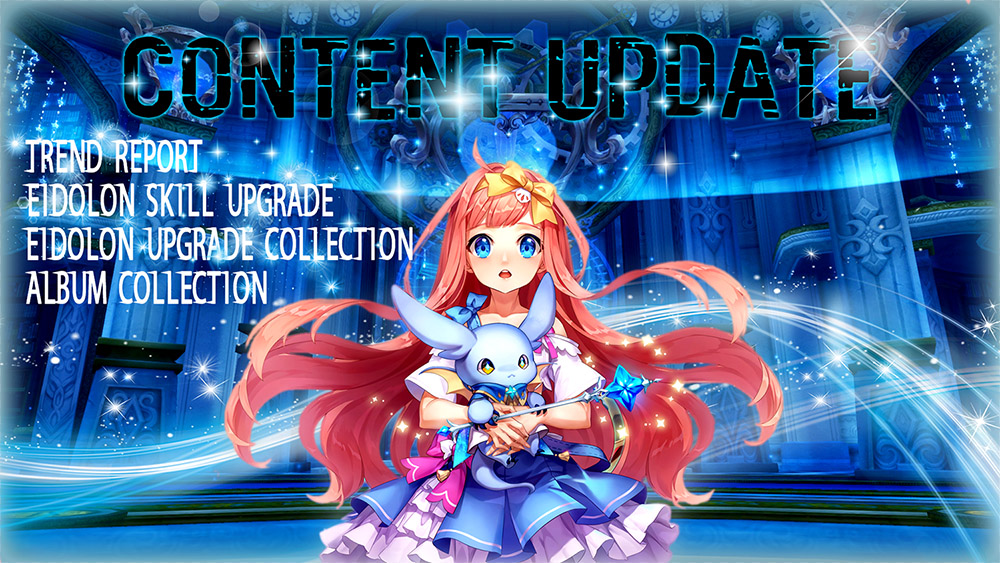 Server Maintenance on 21/05/2020




Aprox Time Duration:

Between 2 and 3 hours.



Patch Notes:


-

New Eidolon Skill Upgrade Feature:


In order to unlock the new feature, you'll have to complete a new LV25 pop up quest in your log. Once the quest is finished, you'll be able to see a new tab in your Eidolon Menu.
In this new tab you can feed "Mana Stones" to certain Eidolons to upgrade their skills into new categories. There are five categories in total: Green, Blue, Orange, Purple and Gold.
Each new category will grant new bonuses/effects to those skills. One in golden status, skills can't be upgraded anymore.
Mana Stones can be obtained through: Eidolon Linking. Quatermaster Dickie's Store (War Coins Shop) Enchantments, Cards and Items Shop. Sky Tower Hell Special Category in the Adventurer Encyclopedia, using Dragon Points and Sky Tower Hell Honorarias. Loyalty Store (Weekly Limit) in order to purchase 1 stack of Mana Stones per week. AP Store Eidolon Items.
The full list of upgradeable Eidolons at the moment is:
Serif, Grimm, Merrilee, Alessa, Ahri, Gigas, Aelius, Abraxas, Eligos, Benkei, Faust, Tsubaki, Endora, Serena, Vermillion, Shirayuki, Hel, Bahamut, Bealdor, Kaiser Zeta, Summer Michael, New Year Morrigan, Thumbelina, Genbu and Raphael.



- New Eidolon Skill Upgrade Collection Feature:


You can access this feature through a new button in your Eidolon Menu. There, it will showcase the different bonuses that you unlock for your Eidolon Skill Upgrade Status.



- New Album Collection Feature:


Completing your album will unlock different stats for you. Once an item is added in the album, you can "collect" the rewards for having it there. The more you increase your collection Ranking, the higher stats rewards you'll get, with a total of 21 tiers available to unlock at the moment.



- New Trend Report Feature:


A new tab has been added to the Daily Login Rewards section. In there, you'll be able to collect different rewards for owning different items. Remember, in order to collect your rewards you'll have to press on "Update Rewards" (Items needs to be already bounded in order to collect them).



New Paragon Table: [Desert Edition]


On this week's Paragon Table, we will walk through the heat of the desert. With a special Paragon inspired by our Egypt Goddesses, you'll be able to transform into a creature of the sand yourself.
- Bastet's Costume Paragon Release.
- Bastet's Key of Gaia, Fragments and Accessory.
- Tiger Caeser and Cleopawtra Mounts: Including golden evolved versions and custom versions.
- Halloween Medjed Key Fragments and Accessory.
- Medjed Key Fragments and Accessory.
- Cleopawtra Key Fragments.
- Desert Warrior Costume Sets.
- Moon Mounts.
- Flying Carpets.
And Much More!



New AP and Promotions: Power UP Edition


This week's Promotions will be all about geating and powering up. With a special consumables edition devoted to your stats.
- Fortification Scrolls Bundles with Discounts in both Store.
- Forging Scrolls with Discounts.
- Rerolls with Discounts.
- Fusion Stones with Discounts.
- Buff Consumables.
- Special Introduction of Mana Stones for this week's Eidolon Skill Upgrade Release. Available in both stores, with unlimited buys.
- Warrior Eidolons in both Stores.