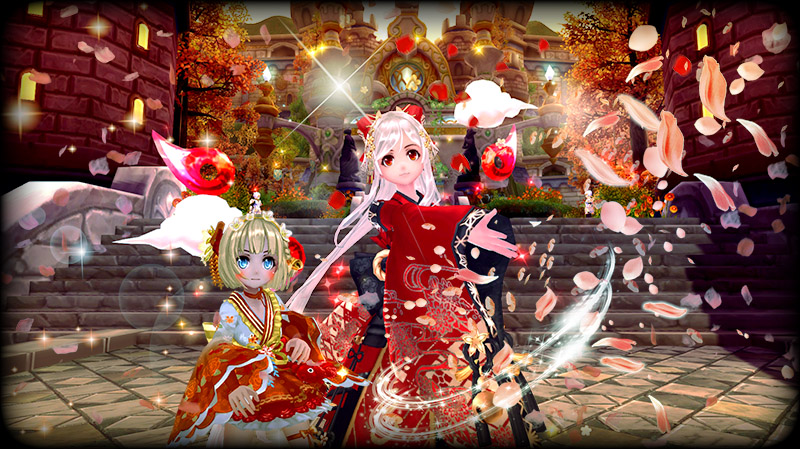 New Paragon Table and Promotions!





Patch Notes:


- Fixes to missing daily quests from <Eidolon Researcher Director> Henrik at Crescent Hill.


- Addition to the game of "Demon-King Fantasies":


The new daily side quests added to the game will allow you to see the world from the eyes of Monsters. Transform yourself into one of the Demon Kings and defeat your enemies to win amazing prizes!
You will be able to access a total of three side quests on daily basis that will rotate each day of the week and give you different prizes.
You can access the new quests from the <Bounty Hunter> Aner, at Ventos Prairie (X: 384 Y:810) and exchange your tokens for mounts or fortune bags with chances of exclusive pets and trasmogs.



New Paragon Table: [Gods from the East]


On this week's Paragon Table we will devote ourselves and pray to the Asian Gods. Different eidolons with their Key Fragments, Accessories and Unique Pets will make an appearance.
- Release of New Year Succubus Key of Gaia, Key Fragments, Accessory and Unique Pet on the Paragon Table.
- Orochi's Key Fragments and Accessory.
- Seyriuu Key Fragments and Accessory.
- Aoandon Key Fragments and Accessory.
- New Year Murasame and Murasame Key Fragments and Accessory.
- Diao-Chan, Shirayuki, Won, Zashi Key Fragments.
- Amaterasu's Key Fragments and Accessory.
- Tsukuyomi Key Fragments and Accessory.
- Seyriuu, Amaterasu, New year murasame, Aoandon, Tsukuyomi, Zashi, Diao-chan unique pets.
And more!



New AP Promotions: Sakura-Blossoming Spring


This week's AP Promotions will include two new costumes: Kingyo-hime costume set for Dragonista and Traditional Miko Set for females. We will also have some old yet popular costumes: Ancient swordwoman, Sakura No Hana, Sakura No Ryu among others. Two new ornaments: Jade and Sapphire Clouds. And Goddess! Sakura-hime, Kingyo-hime, Iwanaga-hime and Otohime Key Fragments and Accessories.



New LP Promotion: Bed Time


In our loyalty store, we will keep ourselves secure in the confortable interior of our homes. With the release of the Ram Fluffy Night Dress, our Planetarian Costume Sets, Fairytales Books, and more! Our dreams will also be taken care of by the moonlight goddess: Serena, Cesela, Morrigan and Bastet Keys of Gaia and Fragments. Urd and Chronos will guard our time, while Verdandi and Skuld will keep our fortune.



Promotions will change tomorrow on March 20

and last for seven days until March 27.