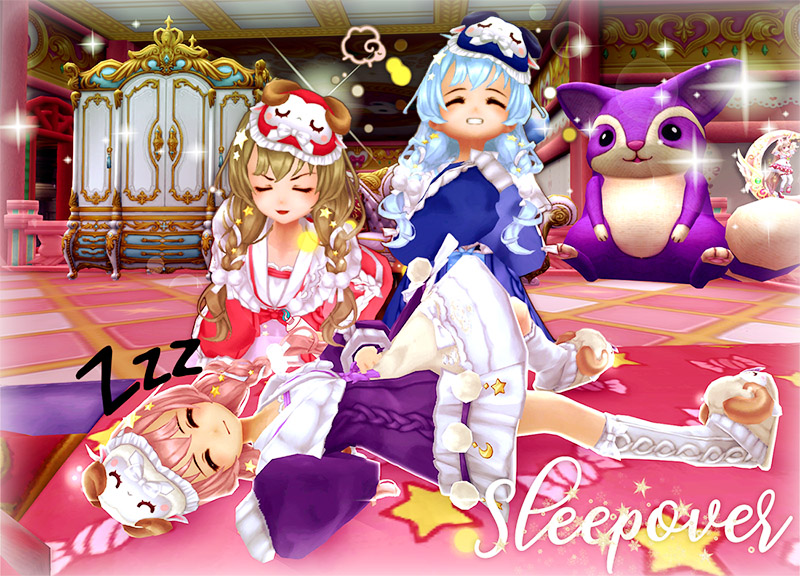 Server Maintenance on 06/02/2020




Aprox Time Duration:

Between 2 and 3 hours.



Patch Notes:





New Paragon Table: [Christmas Amaterasu Edition]


Our festive loli will appear on the Paragon Table for the first time and some lucky winners might be able to add her to their collection. Inspired by her holiday style, Christmas Amaterasu will bring us all kind of winter-like, joyful items.
- Eidolons: Christmas Amaterasu, Blessed Tyr, Holy Fenrir and Eirene's Key Fragments, Keys of Gaia and Accessories.
- Mounts: Ski Penguins (Golden Exclusive version included) Rabbit Sleighs (Golden exclusive version included), Forest Deer, Golden Beebis Sleigh.
- Costumes: Christmas Party Dress, Sweet Holiday Costume Set, North Pole Star Costume, Winter Fur Coat.
- Consumables: A full Thanksgiving dinner, including Lettuce Salad, Cocktails, Raspberry Jam, Walnut Pumpkin Pie and a delicious Turkey.



New AP Promotions: Sleep Over


Our AP Store this week will look dreamy and comfy. All of Azurias's little girls will be invited to our sleep over, so there will be all kind of looks for them to choose from!
- Release of Ram Night Dress Set for Dragonista.
- Layered Sakura Dress, Santa's Little Helper, Wonderland Set, Little Bear Costume Set, Lace and Ribbons Set, Little Marine Set.
- Bed Time Stories: All Fairytale Books mounts.
- Pajamas for the grown ups monitoring the party.
- A gorgeous Goddess to take care of our dreams, and her beautiful pillow mount.
And much more!



New LP Promotions: Battle Time


Our Loyalty Promotion will be inspired by dark, battle ready fashion. With Costumes, Mounts, Accessories and Eidolons to fight the power.
- Winter Captain and Azurian Commander Costumes.
- Azurian Soldier Costumes.
- Space Trooper Costumes.
- Modern Soldier Costumes.
- The allmighty Ares will lend us his power during this week's promotion.
And much more!



Promotions will change this Monday 24th and they will last for five days, until February 28th.





Sky Tower Week Ended


After a week of heavy farming, you can count your gain and a take a deep breath. Now is time to go back to our normal Sky Tower Schedule, and finally have some rest... Can you?



February's Double Experience Event


For the final week of February, our experience count is going off charts! With seven days of double experience and specialization experience from monsters, starting today and until next maintenance.