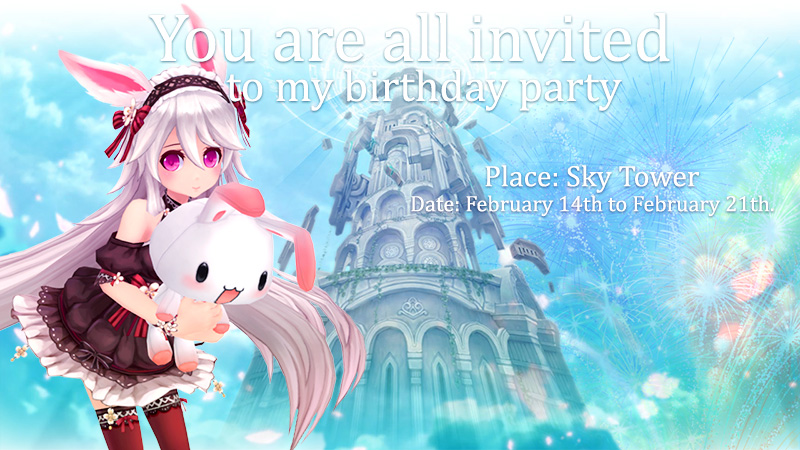 Server Maintenance on 13/02/2020




Aprox Time Duration:

Between 2 and 3 hours.

Cancel life for the following week, because AKTO is turning six years this friday, and we will celebrate with a big time farming. The place of the party for this year is Sky Tower, where we will abuse of the new floors for seven days straight. Everyone is welcomed and invited to attend, but make sure you bring your best garments; cause the challenge might be exhausting. If you are looking to replenish your energies, we will be serving a special Promotion of Choice like you never saw before. More than plenty to give good use to all that loyalty you'll be gaining!

Sky Tower week will start today after maintenance, and last for seven days until next friday. You'll have Floors 1 to 35 only available on Fridays (14th and 21th), at their regular schedule (3am, 9am,3pm, 9pm). Floors 36 to 55 will be available this Saturday, Sunday, Monday, Tuesday, Wednesday and Thursday at its regular schedule (2am, 8am, 2pm, 8pm). Sky Fantasy won't be available this week.

Promotion of choice will start this Friday (February 14th) and last for seven days. Items will be added in AP and LP Shops, altho the content of both shops won't be identical. The selection of items added will involve most voted items by our players, but it will surely contain consumables, buffs, fortifications, keys of gaia, among other goodies. There will also be some surprise releases.



Patch Notes:


- Fixes to Sky Tower Hard Floor 53 invisible walls/buildings.
- Fixes to Sky Tower Hard Floor 52 inmunity bug.
- Fixes to Sky Tower Hard Floor 52 invincible chest bug.
- Fixes to Sky Tower Classic and Hard Floor 52 infinite floor.
- Changes to damage from Monsters and Boss in Sky Tower Hard Floor 54.
Keep in mind Floor 54 cannot be completed in Classic or Hard Mode if you activate final crystals of different colors at the same time, so avoid this if you want to finish the floor. It's unclear if this is a bug or intended, but while we check it, you should include it to your Floor mechanics.
- Addition to Dazzling Reshuffle Stones exchanger:
You can now exchange Shining Reshuffle Stones (Tradeable) for Dazzling Reshuffles Stones with Manny in Navea. Just press "Next" on his window and look what you can redeem. The exchange rate is x3 Shining Reshuffle Stones = x1 Dazzling Stone.



New Paragon Table: [Magic Edition]


This week's Paragon is filled with magical outfits, ornaments and mounts. Items with a mysterious vibe, inspired by the stars, will fill our tiers. So do you want to know what you can win?
- Nebular Pony.
- Release of Star Costume Set.
- Release of Under the Moonlight / Fly me to the Moon ornaments.
- Planetary Witch Costume Set.
- Moonlight Goddess Costume Set.
- Magic Umbrellas.
- Magic Trick Ornaments.
- Copperfield's Power of Levitation.
- Chronos Evolution Costume Set.
- Time Magic; Star of the Universe Staff.
And Much More!