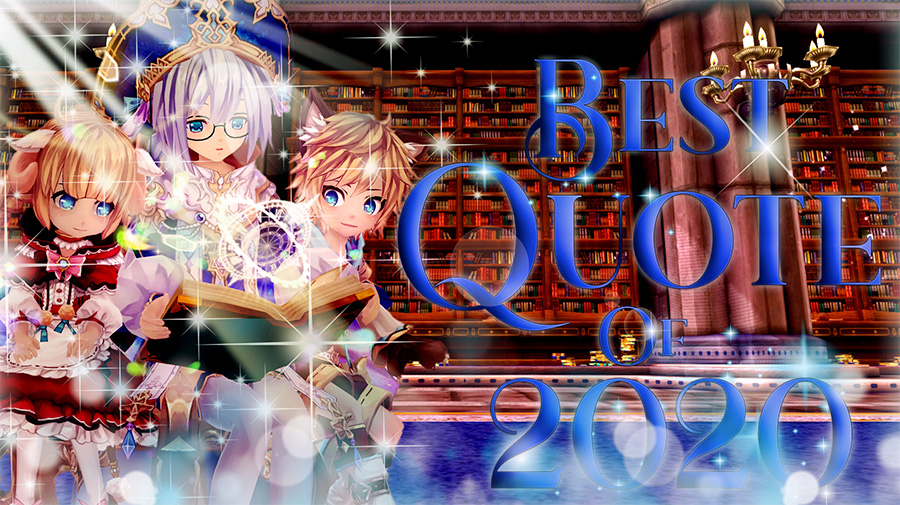 Some might claim this has been a year to be forgotten. And yet, even with every chaotic event of 2020, we also made more than one new memory ingame. So maybe you'll take this opportunity to have a final laugh on 2020. Or maybe you'll use the opportunity to vent. Maybe this is just your way to find something worth saving... No matter why you join, this will be indeed an opportunity to fill your pockets with AP. Because once again, we present you...
The Best Quote of 2020!
There are different kind of stories. Stories based in real facts, stories you have witness yourself and stories people have share with you. All of them together make your own experience. To celebrate the end of this chaotic year, we will share these stories with the rest of the community: they will be stories that will have ourselves as the protagonists.
Event Details:
- We are looking for the Best Quote of the Year: it can be a phrase, a full sentence, a paragraph, even a full conversation.
- In order to participate, you will have to post a physical evidence: it can be a quote from forums, a screenshot from the game, etc.
- The content of the quote must be game related.
- Posts are allowed from: Aurakingdom forums. AKTO Screenshots (cropped or not). Discord or other communication methods between you and other players.



Event Rules:


1. The name of the person talking should be visible at all times.
2. Insults and offensive language isn't allowed.
3. You will have to specify the source of the quote (for example: general discussion in akto forums, x guild discord, guild chat, world channel, etc)
4. In case context isn't given in the screenshot/quote you can clarify it yourself for better results.
5. You can quote other people or yourself.
6. Players can submit multiple entries but the same quote can only be posted once.
7. Entries can't be edited: the first person to post the quote will qualify for the judging process (repeated quotes won't disqualify your entry; that quote just won't participate).
8. Each player can only win once.
9. Quotes can be in other languages, but you will have to translate them to english in your entry.



Prizes:


We will select a total of 10 quotes. Each player will receive

3.000 AP

and an eidolon bag of own choice.





Deadline:


You will have time to post your entry until January 8th 2021. All quotes until the deadline are valid.