​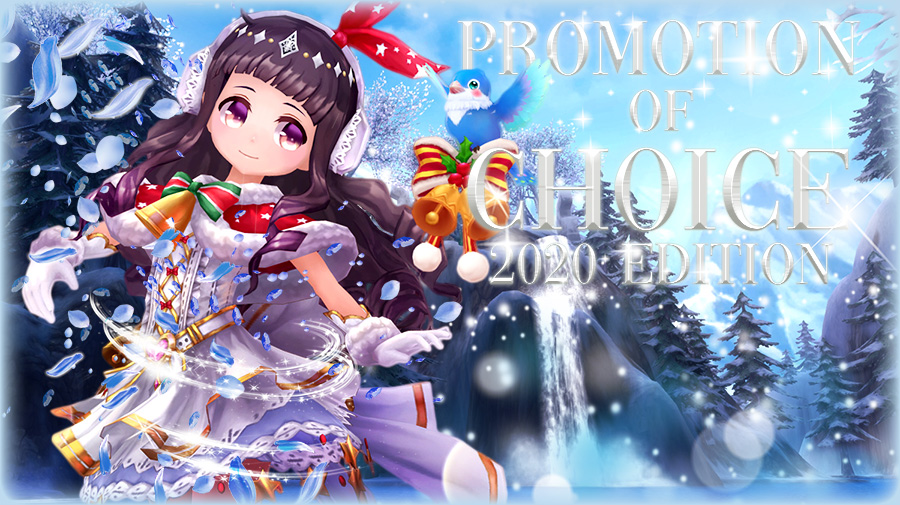 [AP and LP Promotions for the Holidays]




A Christmas Wish: Promotions of Choice!


Santa Claus is coming to town, and you better have written your letter for him already. Players have personal requests about things they want to see in AP and LP Promotions through the whole year. And on this special occassion, we will make those wishes come true. All you have to do is come up with a little lists of things you would love to see coming to the AP and LP shops next week. The items with most claims will be selected and come to store!

Our next AP and LP Promotions will be the gathering of azurians requests. You will be able to ask for different categories of items, and the most mentioned things will be added to the Hot Items categories on December 18. Items with discounts, special items that rarely come to shop, opportunities you missed on 2020 and you would love to see again.



Event Details:


- Start by adding the name of your character.
- Come up with a list of things you would like to ask Santa this year.
- In total, you will have to list 10 different items. You can't list more than that, or your vote will be disqualified.
- Be specific: you will have to list the name of the items you want to see.
- The items you can vote for needs to be:
1) Obtainable through the Item Mall, from current categories, past promotions, or Paragon Tables.
2) You cannot vote for Events exclusive Items, Drop exclusive Items, Production exclusive Items, Nightmare or Sky Tower exclusive items.
3) Since our current promotions includes Christmas accessories and Keys of Gaia, those specific items on the current promotion are also off-charts; same includes for Queen of Hearts (Currently only in the Bonus Mall), Nekomata and Raziel.



A Good List Example:


Wish 1: 125% Forging Scrolls.
Wish 2: Superior Fortification Scrolls.
Wish 3: Crystal Gear Releasing Ring.
Wish 4: 10 Days Elemental Food.
Wish 5: Abe no Seimei's Key of Gaia.
Wish 6: Ring of Oath.
Wish 7: 7-Day Sprite of Gaia.
Wish 8: Moonlight Princess Dress.
Wish 9: Crystal Spirit Orb.
Wish 10: Meteor Pet.

A Very Bad List Example:


Wish 1: Consumables.
Wish 2: EXP Items.
Wish 3: Eidolons.
Wish 4: Nightmare Coins.
Wish 5: 130% Forging Scrolls.
Wish 6: Custom Sword of Heroes.
Wish 7: Azurian Donator Pack #4.
Wish 8: Angelic Panel.
Wish 9: Lucia Pet.
Wish 10: 140% SLV15 Lance.

Items with most mentions will come to the Stores starting our next Promotion change, on December 18. Remember that some of the most voted items will go to the AP Store, some to the LP Store, and some will be available in both stores; I will be the one to decide where everything lands. If players votes for items that already in store in some form, those items can be added in special bundles or with special discounts. (For example, if you vote for Superior Fortification Scrolls, Accessory, Weapon and Armor ones will be added with a discount). If you vote for items that are AP exclusive at the moment, they could be added in both stores but with a discounted price ONLY in the AP shop (For example, if players votes for Rings of Oath, they will be added to the Loyalty Store at normal price while they will also get a 2x1 in the AP Store).

You might ask any pending doubts in this thread before posting your definitive list. You will have time to vote or modify your list until December 17th.