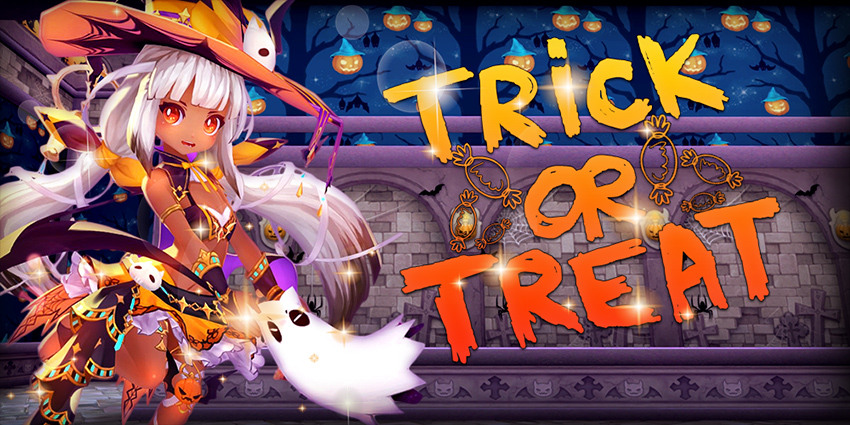 Halloween Ingame Events!
Did you think we forgot about this special time of the year? During the next following week, you'll be able to get into the spooky mood. You'll need to go to some of the most unusual places to gather your halloween candy. But once you, great rewards will be awaiting!
Halloween Treat Event:
From today's maintenance (October 29th) and until November 12th, players will collect Halloween Monster Candies Coupons from killing specific bosses (it will drop in most dungeons, with the exception of 10 Loyalty Off Dungeons). Use them to gain 1 Halloween Monster Candy. You can use the special currency in our Halloween Paragon, that will be available for two weeks.

But that's not all! If you reach top tier, instead of extra halloween monster candies to continue rolling, you have high chances to win Halloween Candy Bags. Use them to exchange items in the Adventurer Encyclopedia, under the Special > Event Tabs. All of the Halloween Paragon top tier items will be available for you to exchange them!
Prizes:

- New Oathbound Pet: Reinhardt, the Dark Knight.
- Two New Special Panels: Mirror on the Wall and Blood Moon.
- New 1 Day Buffs:
Halloween Magic Bottle (Exp from killing monsters +50%, Exp from Quests +25%, Basic ATK SPD +10%).
Halloween Magic Coin (+30% extra gold drop from monsters).
Halloween Magic Bag (Drop rate +30%, MOV SPD +5%).
Halloween Magic Gem (+2 Extra Drops after killing a boss, stacks with long lasting and normal charms).
Halloween Magic Potion (Profession EXP earned +20%, Drop rate of Orange item for Archaeology increases)
- Halloween Fashion: Including Halloween Horror Movie New Costume Set, Halloween Pumpkin Trains New Mounts, New Halloween Staff, New Halloween Mobiles).
- Halloween Accessories.
- Chronos, Endora and Serena Dances.
- 1 Day Spellbooks.
Endora's Summoning:
Our little witch will make her annual reappearance in the middle of Navea! For the following two weeks, you can talk to Endora to get the following tricks:

- Endora will transform you for 40 minutes into an Azurian Monster. This disguise will also grant you phenomenal power, and each random disguise will provide a unique stats boost.
Remember: You can't use the transformations inside PvP. You can't transform if you are riding a mount (you'll still get the penalization and charge). The disguise option has a small fee.

- Endora will give you one daily random bag with the "Trick or Treat" Option. These bags are filled with all different kind of goodies. You can only claim one bag a day and your character needs to be at least level 90. This year, Endora's Bags comes with new content!
Navea at Night:
Hope you are not too afraid of the dark! During the Halloween Celebrations, Navea will stay at Night the 24 hours. No sunshine for a spooky halloween!