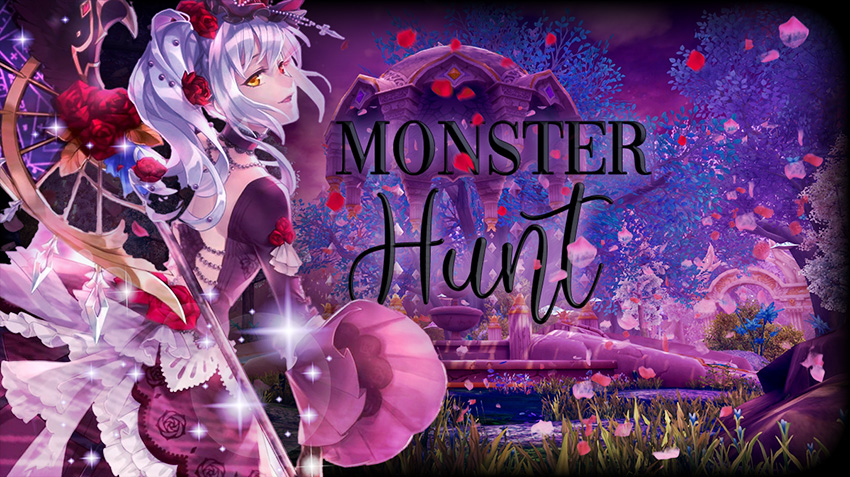 [New Monster Hunt Goals]
October's List: Spooky Edition
October is the time of the month in which the scarier spirits come out to play and trick us. So once again and like every month, we will ask our Envoys to help us keep the dark forces in line!



Server Challenge: Lords of Darkness


Players will have to defeat the following list of monsters:
1.<Mirage of Destine> Augus on Time Library Nightmare x1000
2. <Shadow Knight> Reinhardt on Frozenlea Plain (Hell Mode) x800
3. <Eternal Blood> Demidis on Bloodthirsty Castle (Party Mode) x600
4. <Lord of the Underworld> Hades on Gaia's Nightmare x400
5. <Burning Calamity> Gotzmog on Sky Tower Hell x200



Prizes for Server Challenge will remain the same:


1. Unlocking First Tier: Hunters Proffesional Boost - 100% extra prof experience for seven days.
2. Unlocking Second Tier: Hunters Blessing of Greed - 50% discount in all gear crafting for seven days.
3. Unlocking Third Tier: Hunters Experience Boost - 100% extra experience from monsters for seven days.
4. Unlocking Fourth Tier: Hunters Sign of Power - +3% to all stats for seven days.
5. Unlock Fifth Tier: Hunters Charm of Luck - 2 extra treasures from all bosses for seven days.



Guild Challenge: Witches of Azuria


Players will have to defeat the following list of monsters:
1.<Blessing Spirit> Zashiki-Warashi on Guild Hall x8
2.<Empress of Torment> Bel-Chandra on Sanctuary of Eidolons (Solo) x30
3. <Envious Temptres> Hera on Sanctuary of Eidolons - Trial (Party) x40
4. <Night Dreamer> Morrigan on Gaia's Nightmare x50
5. <Goddess of Fate> Verdandi on Sky Tower Hell x8



Prizes for Guild Challenge stays the same:


1. Unlocking First Tier: Guild Contribution Points x500
2. Unlocking Second Tier: Guild Contribution Points x1000
3. Unlocking Third Tier: Fantasy Wishing Card x5 (Removes Fully Blessed)
4. Unlocking Fourth Tier: Fantasy Wishing Card x5 (Removes Fully Blessed)
5. Unlock Fifth Tier: Guild Contribution Points x2000



Solo Challenge: Sinners of Azuria


Players will have to defeat the following list of monsters:
1. Sin of Violence on Crystal Vault (Hell Mode) x70
2. Disaster of Jeaulosy on Temple of Ancestors (Hell Mode) x60
3. Scourge of Avarice on Flooded Forest (Hell Mode) x50
4. Vice of Gluttony on Land of Frost (Hell Mode) x40
5. Euronyme on Demonic Temple of the Twilight Blood Lord x30
Prizes for Solo Challenge will be the following:


1. Unlocking First Tier: Enlightment Spell x7
2. Unlocking Second Tier: Little Brat Aura
3. Unlocking Third Tier: Kittana, the Dark Kitty Warrior
4. Unlocking Fourth Tier: Oathbound: Meia
5. Unlock Fifth Tier: Oathbound: Magician Caresha

If you need for more information regarding the Monster Hunt mechanics, you can check for all details here.