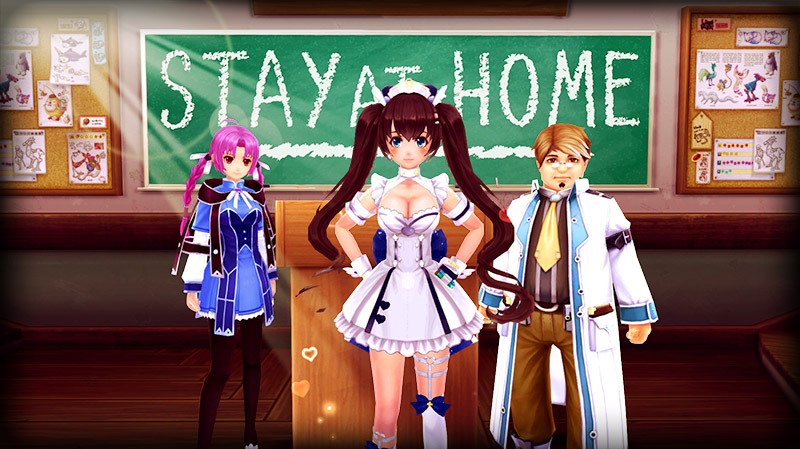 [Ingame and Forums Event]




Stay At Home!





Hello Azurians! As you know, we are suffering from a global crisis that prevent many of us to go outside. And it's important that we don't, since by staying at home we take care of ourselves and others. To fight the boredom and help you find something to do, players will be able to unlock a seven days double experience buff just by performing a simple task that will remind you something vital at this time of crisis: you should periodically wash your hands.





[Ingame Event Details]


- Players need to have the House Interface unlocked in game to participate (Lv.55 Quest).
- Inside yours and other players's houses, you will find a new NPC: Nurse Joy.
- Nurse Joy has a Non-Repeatable quest available to all players: Stay At Home.
- She will give you a Piece of Soap that has a 7-Days duration and an hour cooldown.
- When using the Soap, your Max Hp will increase in 1%.
- The effect can stack up to 24 times.
- Once you reach the 24th stack on your "Wash Your Hands" buff, you will complete the "Stay at Home" Quest.
- As reward, you will receive the Quarantine exclusive panel and buff: Double experience for seven days.






[Forum Event Details]


It's time for some house decor! If you struggle to find things to do ingame, showing off your cribs might be the best approach.

- You will need to have the House Interface unlocked in game to participate.
- Decorate your house and publish it with Public Settings.
- In this thread, you must submit:
1. Name of Your Character.
2. Name of Your House.
3. One screenshot of your house to invite us to come in.

I will be visiting all submitted houses and taking photos for my collection. At the end of the event, I will publish the photos and announce three lucky winners.

- Winners can participate up to

April, Friday 3.


- You will have time until midnight to submit your participation.
- Winners announcement will vary according to the amount of submissions, but they will be announced the following week.
- We will choose three winners in total.
- Each winner will be able to choose a total of

x50 furnitures

to add to their houses/collections.